atman – Institute for Mental Health and Migration – fka office southern palatinate
Support for trauma sequelae disorder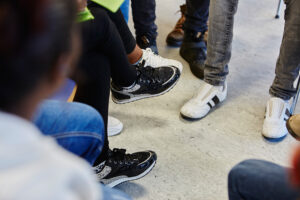 The "atman – Institute for Mental Health and Migration" offers a stabilising, low-threshold service for adults (21-40 years). The aim is to strengthen the ability to deal with psychological difficulties and to cope with everyday life. Methods are taught that help clients to reduce fears and anger, improve concentration, reduce insomnia and find inner peace. Up to 10 individual sessions for stabilisation are possible, which can also be used as preparation for a later therapy.
The aim of the project is to help people to help themselves in case of psychological stress against the background of flight and migration.
Offers:
    Outreach work for targeted support in the case of psychological stress with information about help options in Germersheim and the surrounding area
    low-threshold educational offers with stabilizing measures e.g. physical exercises, aromatherapy, trauma sensitive yoga, creative media, relaxation techniques
    Individual discussions with specialist therapists for stabilisation (conflict management, strengthening of resources, change of perspective, inner space, imaginative procedures, timeline etc.)
    Workshops for volunteers and full-time workers to strengthen their everyday dealings with refugees and migrants with psychological stress
We try to respond to the person concerned individually. Our specialist therapists have different focuses and can thus work with the appropriate methods in a targeted manner. After an initial consultation, a team meeting is held to decide which therapist best suits the client.
People who suffer from particularly severe psychotraumatic secondary disorders usually require specific and qualified trauma therapy, which we arrange within the framework of our network.
Interpreters* are called in if necessary.
 *** Currently we only accept emergencies! ***
Contact for the initial interview:
Malin Pichotka: malin.pichotka@freundeskreis-asyl.de
Jessica Ruhe: jessica.ruhe@freundeskreis-asyl.de
Telephone number: 0151 177 589 46
Phone hours: Tue, Wed, Thu from 10 – 13
Consultation hours in the fka office Südpfalz Tue 10-15 o'clock, only with advance reservation!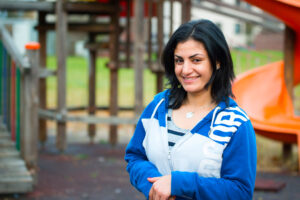 Women's meeting place
Are you looking for company, a little time out and space for creative development? Then come to our women's meeting, also with your children. We will gladly support you with everything that is on your heart.
Tuesday 10:30-12:30: Women with and without children
We are looking forward to seeing you!
Offers:
    Dance
    Beauty
    Yoga
    Relaxation exercises
    Discussions on interesting topics
    creative offers
Contact:
Jessica Ruhe and Meera Mani
jessica.ruhe@fka-ka.de
meera.mani@fka-ka.de
tel. + 49 15117758946
tel. + 49 7274 779 86 70
fax: 07274 779 86 79
fka – Freundeskreis Asyl e. V. in rlp
Bismarckstrasse 6
76726 Germersheim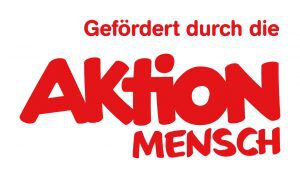 We would like to thank the GlücksSpirale for their support in equipping the premises in Germersheim.