Beyond the cup
Fair Weeks Karlsruhe 2019: Film screening, discussion, lecture and Enjera buffet on 20 September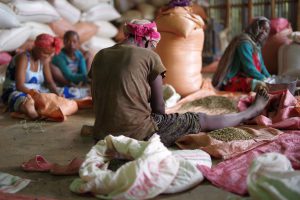 In the event "Beyond the Cup Edge", which will take place on 20 September 2019 at Marienstraße 63, we focus on people at the far other end of the global web, on their poverty and their needs, which should be met with more fairness. And with more human rights.
The world market price for coffee has plummeted. This development threatens the livelihoods of producers in the growing countries. This season, they are receiving almost 30% (!) less for their harvest. Coffee is the number one luxury food in the West. As consumers, we are the last link in a chain that starts with many people in the global South.
The harvesting of large shares of food and beverages in the South is done by women in great poverty and disadvantage. Perhaps every single coffee bean has already passed through the hands of female seasonal workers – without protection and security, for inhumanly low wages.
We want to call for solidarity with the women in coffee production. Through our consumption behaviour, we influence the living conditions in the growing countries. But consumption is also life. How can we develop it and make it better?
The documentary film "Black Gold" by Nick and Marc Francis spans a wide range from the plight of small-scale coffee farmers in Ethiopia to the trendy glossy world of the coffee shop scene.
Ethiopian Enjera buffet and traditional coffee ceremony
Film screening of "Black Gold" followed by input on the film by Ingeborg Pujiula (Weltladen) and discussion.
Christian Ernst will exhibit photos from his series "Poor despite Coffee" from Southern Ethiopia.
We are looking forward to seeing you!
Contact
Mariella Winter and Jörg Weinerth
tandem@fka-ka.de
Phone: 0721 / 9649 4896
In cooperation with Weltladen Karlsruhe, Espresso Tostino, Liberación Karlsruhe e.V., and others.