Fit for Future
Empowerment of refugee children & young people from Ukraine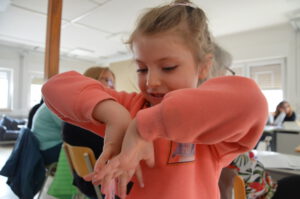 Our project is aimed at refugee children and young people (and their accompanying persons) from Ukraine who are accommodated in Germersheim city/county, either communally or privately. Children and young people from refugee families are particularly burdened. The war-related flight from their home country, from direct and indirect experiences of violence, means for these young people an absolute and surprising uprooting from familiar family structures, patterns of values and norms.
Offers:
1. individual sessions
Children and young people receive initial stabilisation after the loss of their home;
they are supported in perceiving their feelings and communicating them verbally;
they learn techniques to help them cope better both with what they have experienced and with the subsequent physical and psychological reactions (including breathing exercises, trauma-sensitive yoga, creating a safe space).
2. group activities
Sharing about the loss of the home country and the experience of flight.
space is given for age-appropriate development
we offer self-defence and Wendo to show the children/young people their own strength and to give them a sense of security
Support in the formation of a healthy identity in order to avoid long-term disorders and (mental) illnesses.
3. referral to further help and leisure activities in Germersheim as well as individual counselling.
Open office hours: Tuesday and Thursday 10-12 a.m.
Open women's meeting (mothers, young women & girls): Tuesdays and Thursdays 1-3pm
Youth and children's meeting: Thursday 5-7 p.m.
Special offers via WhatsApp group:
Art workshop, Wendo, trauma sensitive yoga, communication training.
Contact:
Jessica Ruhe
jessica.ruhe@fka-ka.de
tel. + 49 15117758946