Poor despite Coffee: Human Dignity and Global Coffee Trade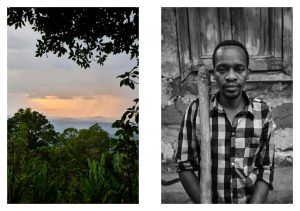 Theme dignity and global trade are up-to-date topics.
The global price for coffee has decreased significantly. This development endangers in particular the livelihood of small farmers in South Ethiopia. This season they earn about 30% less for their harvest. In 2018 there were bloody conflicts in the main areas of cultivation of the world's best coffee, like Yirgachefe, which has resulted in up to 1 million refugees (IDP). Officially, the conflicts are classified as ethno-nationalist. Are there no deeper reasons such as poverty, climate change, and the fight for limited resources?
Human dignity is not reserved for the privileged. Yet respect for human dignity stops at the European borders; we act racist and inhuman. As final consumers we are the last part in the supply chain, and its origin is marked by the farmers who provide the raw materials for our number one culinary pleasure. Through our consumer behavior we influence the living conditions in the developing countries. If we spend a little more for our coffee, we can contribute to improve the chances of farmers living a decent life as well as indirectly prevent conflicts and forced migration.
In his exhibition "Poor despite Coffee", the photographer Christian Ernst documents the lives of people in the South Ethiopian coffee and crisis region, to whom we paradoxically owe our treasured high-end coffee beans.
The event will be launched with an Injera-buffet with a traditional coffee ceremony. The documentary "Black Gold" by Marc Francis gives global insights from the small Ethiopian coffee producers to the world of trending coffee shops. The following discussion will contain presentations from Karlsruhe experts in the fields of fair and direct coffee trade.
Ingeborg Pujiula (Weltladen/Fächerkaffee)
espresso tostino & Engineers Without Borders
Good Karma Coffee
Liberación e.V.
In cooperation with alina – café, Magma Design Studio and SEDA e.V. (South Ethiopian Development Association)