Legal Migration
Pre-integration counselling and German courses in The Gambia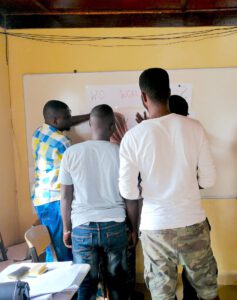 Since December 2016, The Gambia has no longer been under the dictatorship of Y. Jammeh, but its effects will be felt by the population for a long time to come. Due to a lack of prospects, large numbers of young people in particular are taking life-threatening routes to reach Europe. It is one of the central issues of Gambian society. We want to counteract this unregulated migration. Already in 2019, we were able to experience in a small pilot project how urgently qualified counselling and language learning centres are needed.
Against this background, the fka has applied through the BAMF (Federal Office for Migration and Refugees) for the project "House of Hope – Legal Migration". From summer 2021 onwards, we will be co-financed for this from funds of the Asylum, Migration and Integration Fund.
As part of the project, the fka on the ground in Gambia will
offer competent pre-integration counselling, in the course of which interested persons are shown the possibilities of legally immigrating to Germany in individual counselling sessions (basic requirements and conditions, options – family reunification, au pair, federal voluntary service, training, etc.).
old professional German courses free of charge, including exam preparation (levels A1 and A2, B1 and B2)
train local counsellors and qualify them for pre-integration counselling
qualify local German teachers didactically for courses at A1, A2, B1 and B2 level.
Young Gambians in particular should be given the opportunity to enter Germany legally through the project. Contacts have already been made with possible cooperation partners in Germany and The Gambia (training centres, voluntary groups in Baden-Württemberg, Gambian government, local media and organisations).
Contact
Manfred Asel
manfred.asel@fka-ka.de
0721 / 966 39 37
Danika Helbing
danika.helbing@fka-ka.de
0179 / 416 63 00