Together for Equality
for atman - Institute for Mental Health and Migration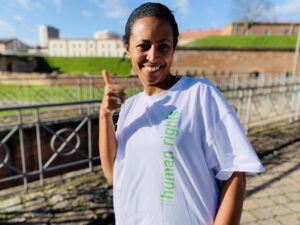 The issue of equality is usually very tangible for people seeking asylum, as it is often not present on a structural level – in the ongoing asylum procedure they do not have the same access etc. as the host society. In addition, there are devaluations, exclusions and everyday racism, hostility towards Muslims and/or sexism, which can lead to psychological stress. Arriving in the new country is thus inhibited. In addition, everyday racism is not perceived as such by some people. It is a challenge to deal with it and to counter it (appropriately) in a foreign language.
We want to change this with our project and accompany refugees to represent their point of view on the topic of racism, sexism and hostility towards Muslims in their living space and in public. This means that they act both as multipliers in their communities and in making different perspectives visible in society, which results in a more diverse picture and less tolerance of discrimination.
Our target group is asylum-seeking people between the ages of 16 and 60. We especially address those affected by multiple discrimination, such as racism, hostility towards Muslims and sexism. In a safe space, many refugees dare to speak their mind and express their point of view, even controversially.
Our offers:
Weekly group meeting Tuesday 1:00 – 2:30 p.m.: Exchange and reflection with a socio-educational support worker about experiences of discrimination.
Open office hours (Thursdays), where participants have the opportunity to discuss general problems and issues arising as a result of the project with the socio-pedagogical support worker.
1 workshop per month with different speakers on different topics: Bodywork/self-awareness, communication/emotion/leadership and empowerment.
Individual coaching (by appointment) with a therapist to strengthen the individual personality.
In a safe space, participants have the opportunity to exchange and (mutually) empower themselves.
These workshops are intended to strengthen the participants personally and to provide them with professional knowledge about discriminatory structures and possible solutions.
Contact
Malin Pichotka
malin.pichotka@fka-ka.de
Phone +49 176 7581 0351
Sussan Passian
sussan.passian@fka-ka.de
Tel. + 49 7274 779 8670
Tel. + 49 7274 779 8675
atman – Institute for Mental Health and Migration
fka – Southern Palatinate Office
Bismarkstrasse 6
76726 Germersheim