About us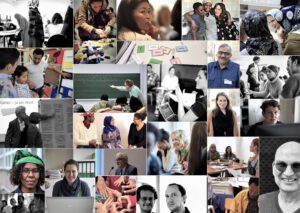 Since 1987, the fka – Freundeskreis Asyl Karlsruhe e.V. has been working as a non-governmental organisation (NGO) for the rights of refugees and migrants. The association is non-profit, both denominationally and politically independent and a member of the German Parity Welfare Association.
Over the past three decades, we have been able to gain experience in counselling and supporting refugees in the municipal initial reception facilities and in the Human Rights Centre (MRZ) in Karlsruhe. This has led to an ever-growing practice and expertise in the overall social task of integrating refugees and migrants. The focus of our work is on the time after arrival in Germany. One focus is empowerment and help for self-determination, especially for refugee and immigrant women.
Our work is characterised by holistic support involving long-standing fka staff members who themselves have a migration history, a large pool of cultural and language mediators, free legal counselling, transcultural trauma treatment and a wide network in the refugee sector.
The fka's diverse project portfolio includes:
Social and procedural counselling at the Human Rights Centre in Karlsruhe and at the initial reception centre Durlacher Allee Karlsruhe. In addition, a mobile and outreach counselling structure is currently being established in southern Rhineland-Palatinate in connection with the fka office in the southern Palatinate in Germersheim.
Migration counselling for adult immigrants (MBE) Karlsruhe-Land in the MRZ, Karlsruhe and in Germersheim.
Initial orientation courses (EOK) at various locations (Karlsruhe city and district, Mannheim, Rhine-Neckar district, Baden-Baden, Rastatt). The courses teach basic knowledge of the German language and regional studies.
Trauma work – the atman Institute for Mental Health and Migration offers migrants counselling and access to therapeutic support for PTSD; the House of Hope in Dakar/Senegal offers returnees the opportunity to work through their traumatic flight experiences using Narrative Exposure Therapy (NET). In a train-the-trainer programme, local counsellors are trained in the treatment method by an international team of experts.
a weekly tea room at the MRZ
an open sewing café as a meeting space for migrants, refugees and Germans, as well as a sewing workshop as a professional production facility in Karlsruhe's Südstadt.
the sponsorship programme "Menschen stärken Menschen" (People Strengthen People)
MiA courses – Migrant women simply strong in everyday life: low-threshold courses for migrant women to promote language skills (empowerment).
Regional events and campaigns (e.g. as part of the Karlsruhe Week against Racism, Fair Week)
The fka's head office is located in the Karlsruhe Human Rights Centre, in the immediate vicinity of the State Initial Reception Centre for Asylum Seekers (LEA) Durlacher Allee. The office is located at Marienstraße 63 in Karlsruhe's Südstadt district. Another branch of the association is the fka office Südpfalz in Bismarckstraße 6 in Germersheim.