Accessible Women's Courses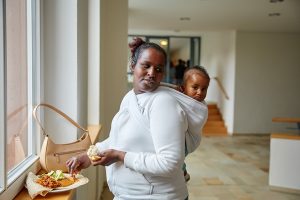 fka post easily accessible courses for women. The Federal Office for Migration and Refugees sponsors seminars for immigrant women with the goal of supporting their German language skills and participation in society. Childcare services will be offered for course participants with children.
The goal of these courses lies in strengthening participants' self awareness, providing support in all areas of daily life, promoting the further use of integration post and helping participants overcome their fears.
Many immigrant women stay within their family environment and do not participate in integration measures. In order to ease their access to integration courses and other measures, we offer an accessible programme in which women interact in casual groups, speaking about their daily lives and experiences and participating in joint activities.
Themes of the Course Modules
Daily life and place of residence
Shopping and budgeting
Health and family planning
Parenting and child education
Educational opportunities and career paths
Career and life planning
Democracy: participation and fundamental rights
Family and women's rights
Violence prevention
Family law: legal custody, divorce
Media skills: internet and social media
Aging: topics for senior immigrants
Contact
fka – Freundeskreis Asyl Karlsruhe e.V.
Rüppurrerstraße 56
76137 Karlsruhe
Tel: +49 721 964 948 96
frauenkurse@fka-ka.de
Sponsored by