Social and procedural counseling at the LEA Karlsruhe
for residents of the LEA Durlacher Allee Karlsruhe and the branch office Bad Liebenzell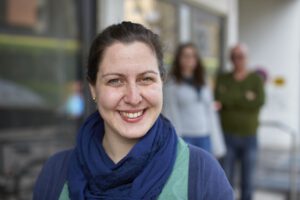 The fka – Freundeskreis Asyl Karlsruhe e.V. has been offering independent social and procedural counselling at the Karlsruhe LEA since December 2017. The site offers space for about 1,000 people.
We are a mixed team whose counsellors come from different countries and have different professional backgrounds. Our staff speak English, French, Russian, Farsi  and several other languages. Many of them have had experiences of flight and exile themselves.
We provide information about the asylum procedure and support with problems such as family reunification, the so-called transfer to accommodation at district level, applying for birth certificates and many questions about everyday life in Germany.
In addition to general social and procedural counselling, the fka team offers health and pregnancy counselling as well as a women's consultation twice a week. In addition, there is free legal counselling for refugees. Initial orientation courses in the country and language are also held.
Initial Reception Centre (LEA) Durlacher Allee 100
Monday, Wednesday – Friday: 09:00 – 12:00
Tuesday: 12:00 – 16:00
Our work is based on the principles of empowerment, cooperation at eye level, as well as target group and needs orientation.
A special role for people accommodated in the LEA is played by the Residents' Advisory Council, which is supervised by the fka. Elected representatives from different cultural and geographical backgrounds give voice to the problems, needs, interests and wishes of the residents of the accommodation.
Women's café in the Karlsruhe LEA
With the committed support of volunteers, the fka makes it possible to meet women every Wednesday from 6.00 p.m. – 7.30 p.m. every Wednesday in the LEA. Mothers have the opportunity to take their children to the Stadtpiraten Karlsruhe for care during this time. The women's café offers a protected space for participants to exchange ideas, learn with and from each other, laugh and cry, or simply drink coffee and/or tea together and get active (handicrafts, knitting, sewing, dancing, gymnastics, relaxation exercises). The aim of this offer is to enable women to take time out from everyday life, to give them space for relaxation and to strengthen their self-efficacy.
fka team of social and procedural counselling:
Alla Nozik (German, English, Русский).
Mobile: +49 176 301 527 03
Mail: Alla.Nozik@fka-ka.de
Monday: 10 am – 3 pm (+lawyer/avocat)
Tuesday: 14 – 19 h
Wednesday: 12 – 15 h
Thursday & Friday: 9 – 12 a.m. *
Amangül Anwar (German,Turkish,中文, ئۇيغۇر(
Mobile: +49 176 459 526 38
Mail: Amanguel.Anwar@fka-ka.de
Monday & Tuesday: 9 – 12 a.m.
Wednesday: 12 – 15 h
Arcangela Ranieri-Krasniqi (German, English, Español, Italiano, Shqip)
Mobile: +49 176 459 788 59(+WhatsApp)
Mail: Arcangela.Ranieri-Krasniqi@fka-ka.de
Monday: 9 am – 1 pm
Tuesday: 12 -16 h
Thursday: 12 -16 h
Friday: 12 -16 h
Meera Mani (German, English,हिन्दी, தமிழ்)
Mobile: +49 176 452 45 604
Mail: Meera.Mani@fka-ka.de
Monday & Wednesday – Friday: 9 am – 12 pm
Saeid Yousefshahi (German , فارسی ، کردی سورانی ، دری )
Mobile: +49 163 4427378(+ Whats App)
Mail: Saeid.Yousefshahi@fka-ka.de
Monday – Friday: 9 am – 12 pm
Tuesday additionally 2 – 4 pm *
Please send enquiries in Arabic only in writing to Alla Nozik or Arcangela Ranieri-Krasniqi. Or send us your telephone number, you will be called back. أو Nozik Alla الي كتابة إرسالها برجاء العربية باللغة اللجوء طلبات بخصوص واألسئلة لالستفسارات .