Bikes Without Borders
Two-wheelers mobilize people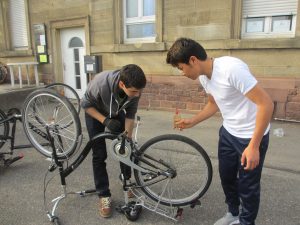 The Project:
Bikes Without Borders was launched in July 2012 with the aim to support refugees in Karlsruhe with rental bikes. Anyone who is interested will also be trained in bicycle repairs and involved in the project work.
With the money available each month, refugees can hardly pay for public transport. It is not unusual for them to come into conflict with the law because of fare evasion. Mobility always also means personal freedom and integration: visiting friends or family members, taking part in counselling services and German courses, and getting to know the city and its surroundings.
Bicycles are handed out free of charge to all those who register online at www.bikeswithoutborders.de and have been invited by us by email, SMS or WhatsApp for the repair appointment. When registering, you can specify the type of bicycle you want (child/lady/men's bicycle).
In the Landeserstaufnahme of the city of Karlsruhe the fluctuation of new arrivals is high and the notification of transfers to other accommodations is usually made at relatively short notice. For this reason, bicycles are usually rented for a maximum of two weeks. This period can be extended as often as desired by two weeks at a time.
Should repairs become necessary, you can come to one of the repair meetings and help with the repairs under supervision. The active participation in the project enables people who are not allowed to work regularly to bring in their own skills and experience and to bring the rental bike into a roadworthy condition.

Support in the form of donated bicycles, spare parts, tools and active help are very welcome!
When:
Tuesdays 5 pm – 5:30pm (almost only handing out wheels)
Sundays 3 pm – 5 pm (repair and finishing) 
Where: Human Rights Center
Alter Schlachthof 59, 76131 Karlsruhe
Contact: