Bikes Without Borders – Bicycles for Refugees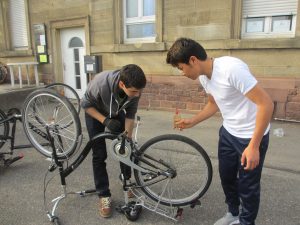 The Project:
Bikes Without Borders, created in July 2012, aims to support refugees by providing them bicycles during their stay in Karlsruhe. The project also aims to integrate refugees by including them in the repairs of the bicycles and thereby giving them meaningful tasks.
The monthly allowance that refugees receive is barely enough to pay for public transportation. Unfortunately, many refugees receive fines for riding public transportation without valid tickets. Yet at the same time the need for mobility among refugees is high in order for them to visit friends and family, to take part in asylum consultations and German language classes, and to meet their appointments. Due to the high number of refugees, the city has made use of accommodation in remote parts of the city, many of which are difficult to reach.
The Project Bikes Without Borders aims to combat these challenges by loaning bicycles to refugees free of cost. Bicycles are provided to refugees who register at www.bikeswithoutborders.de and receive an invitation by email or SMS. During registration the desired type of bicycle (children's/women's/men's) can be specified. Due to the high fluctuation of refugees and the fact that transfers to accommodation outside Karlsruhe takes place at relatively short notice, the bicycles are usually lent for a period of two weeks at a time with the possibility to extend the loan of the bicycle.
If repair work on the bicycles is necessary, refugees can bring their bicycle to the repair meetings held every Tuesday. Refugees are encouraged to participate in the repairs. Since job opportunities are limited for refugees, this project provides a space for them to use their skillsand experiences in a constructive way.
Flyer of this offer (in German)

We always welcome support in the form of donated bicycles, spare parts, tools and of course handiwork assistance!
When: Every Thursday, 6-8pm
Where: Menschenrechtszentrum
Alter Schlachthof 59
76131 Karlsruhe
Contact us!
bikeswithoutborders@gmx.de
Bikes Without Borders Website
Bikes Without Borders on Facebook