Initial orientation courses online
Basic knowledge of language and everyday life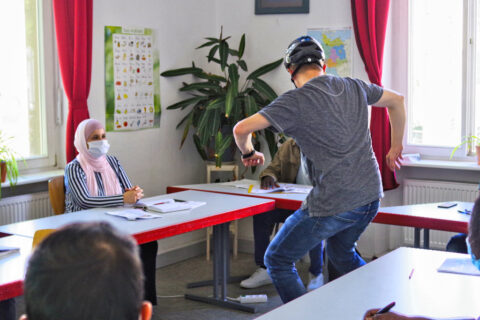 In cooperation with the districts and municipalities, the fka runs initial orientation courses in the Karlsruhe administrative district.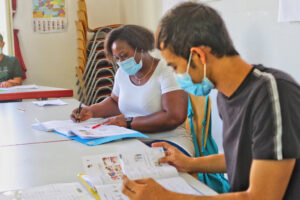 Participants learn useful and necessary things about various areas of daily life and their new environment. They also learn the necessary vocabulary and phrases. The acquired knowledge about the local conditions and the basic knowledge of the German language facilitate the arrival in Germany.
The initial orientation courses are primarily aimed at refugees with unclear prospects of staying. However, recognized refugees and tolerated persons can also participate.
A course lasts between three and four months and takes place on a half-day basis. Participation is free of charge. The various course modules include topics such as work and education, shopping, health, orientation in the place of residence, mobility, and values and coexistence.
Each course consists of six selected modules and a total of 300 hours of instruction. The modules can be freely selected according to need. Only the module "Values and Living Together" is mandatory.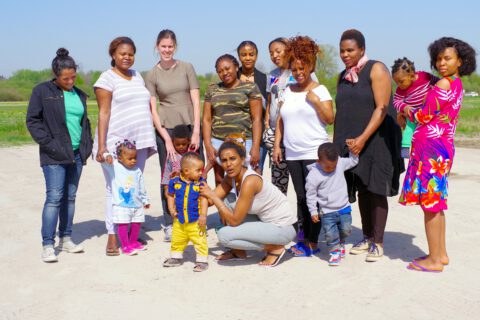 The fka places particular emphasis on enabling women with children to participate in initial orientation courses. If the need arises, we offer child supervision at our course locations. We would like to thank the Heidehofstifung and the Mannheim Refugee Fund for their generous support of the supervisors. In the organization of women's EOK in the Karlsruhe district, we have been working in cooperation with the district office since 2019. At various locations in the district such as Neurod, Zeutern, Pfinztal-Berghausen, Bretten, Weingarten and Oberderdingen-Flehingen, child supervision was supported by the district office.
Since the lockdown before Christmas 2020, the fka has been running remote initial orientation courses. For participants, we give out worksheets and Chromebooks for video lessons as well as online learning. To support participants, we have set up additional office hours, in strict compliance with general hygiene protection rules, to provide one-on-one support on how to use the Chromebooks and answer questions. Due to the increased risk of infection, these office hours are only available at isolated locations.
Remote women's courses are offered in the district of Karlsruhe (Oberderdingen-Flehingen) and in the district of Rastatt (Sinzkeim). In Baden-Baden, there is a remote course for residents of the Waldseeplatz shared accommodation. Online courses are available for residents of the Karlsruhe initial reception facilities (LEA Durlacher Allee 100, Felsstraße, Christian-Griesbach-Haus, Schröcker Tor/Eggenstein-Leopoldshafen).
Contact
Alena Sauter, Sima Pöhler
fka – Freundeskreis Asyl Karlsruhe e.V.
Alter Schlachthof 59
76137 Karlsruhe
Supported by: