Initial Orientation Courses for Refugees
Initial Orientation Courses in German Culture, Values and Language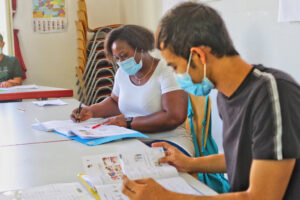 In cooperation with the administrative districts and municipalities, fka conducts initial orientation courses in the Karlsruhe administrative district.
Participants learn useful and necessary information about different areas of daily life and their new surroundings. They also learn the necessary vocabulary and idioms. The acquired knowledge of the local conditions and the basic knowledge of the German language make it easier to arrive in Germany.
The initial orientation courses are primarily aimed at refugees with unclear prospects of staying.  However, recognised refugees and tolerated persons can also participate.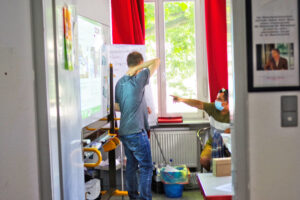 A course lasts between three and four months and takes place half-day. Participation is free of charge. The various course modules include topics such as work and education, shopping, health, orientation in the place of residence, mobility, values and living together.
Each course consists of six selected modules and a total of 300 teaching hours. The modules can be freely selected according to requirements. Only the module "Values and Living Together" is compulsory.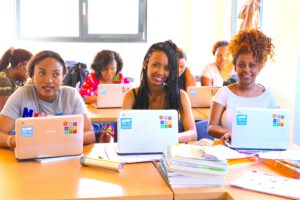 The fka attaches particular importance to enabling women with children to take part in initial orientation courses. If there is a corresponding need, we offer child supervision at our course locations. We would like to thank the Heidehofstiftung and the Mannheim Refugee Fund for their generous support of the supervisors. In the organisation of women's EOK in the district of Karlsruhe we have been working in cooperation with the District Office since 2019. At various locations in the district, such as Neurod, Zeutern, Pfinztal-Berghausen, Bretten, Weingarten and Oberderdingen-Flehingen, child supervision has been supported by the District Office.
View course offer as a PDF file
Donations for child care are very welcome!
Contact:
Amy Pollitz, Jörg Weinerth
fka – Freundeskreis Asyl Karlsruhe e.V.
Marienstraße 63
76137 Karlsruhe
Tel: +49 721 964 948 96
eok@fka-ka.de
Supported by: