Initial Orientation Courses for Refugees
Initial Orientation Courses in German Culture, Values and Language
Freundeskreis Asyl Karlsruhe, e.V., in close cooperation with the administrative district of Karlsruhe, is offering initial orientation courses for refugees at various locations.
Participants in the courses will gain useful knowledge that they can use for all areas of everyday life, as well as the necessary German vocabulary and expressions they need to communicate. The basic German language skills and knowledge about their new surroundings will help participants adjust to their life in Germany.
Initial orientation courses are primarily aimed at refugees with an unclear asylum perspective. If there are free spaces in the course, recognized refugees and tolerated (Geduldete) can also participate, provided that they cannot (yet) take part in an integration course.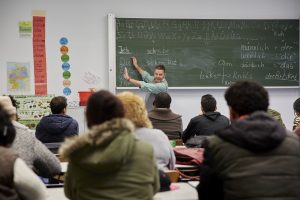 Each course lasts between 3-4 months and is part-time. Participation in the course is free of charge. The course modules cover topics such as work and education, shopping, health, mobility, as well as values and coexistence.
Each course consists of six chosen modules and a maximum of 300 class hours. The modules can be chosen freely by the participants. Only the module "Values and coexistence" is mandatory for all participants. It is possible to take a language test (Zertifikat A1) at the end of the course. However, BAMF will not cover the costs of the examination.
View the course offer as a PDF
Contact:
Freundeskreis Asyl Karlsruhe e.V.
Rüppurrer Straße 56
76137 Karlsruhe
Tel: +49 721 964 948 96
eok@fka-ka.de

Supported by: